Few things are more annoying for a cell phone user than when your device refuses to charge. No matter how long you keep it plugged in, the battery life slowly depletes, like a timer on a stick of dynamite. Here's every step you can take when your iPhone 11 Pro won't charge.
It's Probably Not Your iPhone's Battery
A common misconception about iPhones is that, when they stop charging, it's a problem with the battery. Believe it or not, most cases of an iPhone's failure to charge is because of a problem with the phone's software, not its hardware.
It's more likely that you need something simpler and less invasive than a full on battery replacement. So take a deep breath, and bear with us as we show you some easier methods to help you repair this malfunction.
Hard Reset Your iPhone 11 Pro
The number of technological problems that can be resolved by a simple reset is almost awe-inspiring. A hard reset can get rid of little bugs that arise in the software. These issues are known to cause a number of annoyances to iPhone users, including interfering with charging.
To perform a hard reset on an iPhone 11 Pro, press and release the volume up button. Do the same with the volume down button. Finally, press and hold the side button. When the white Apple logo appears, the reset has begun and you can release the side button.
Check Your Lightning Cable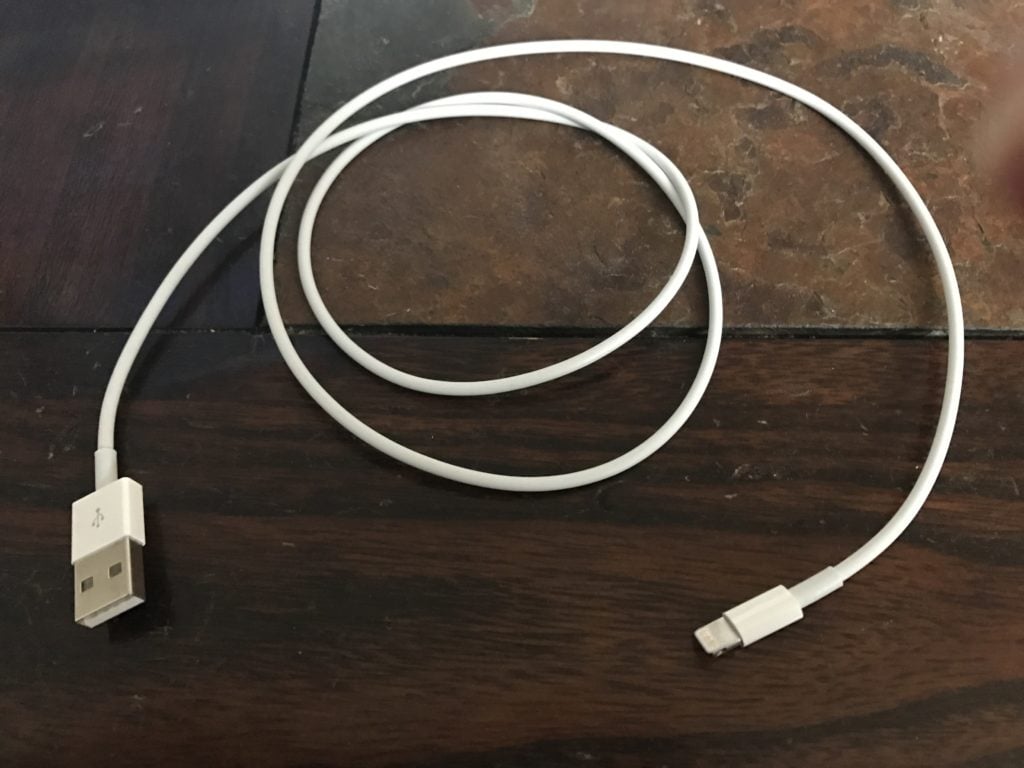 Another common cause of charging problems with iPhones is a damaged or malfunctioning Lightning cable. Closely check both ends of your Lightning cable. Do you see any uncovered wires or fraying? If so, this is likely the cause of your charging headache.
If you don't see anything wrong, try using a different USB charger. Another option is if you usually plug into a wall, try plugging into your computer instead. If your iPhone charges successfully when plugged into the computer, your outlet is the issue.
Another way to rule out your Lightning cable as the cause is to use a different one. If someone you know also has an iPhone, ask to borrow their charging cable. If your iPhone starts charging, it's reasonable to assume that your Lightning cable is the problem.
Replacement Lightning Cables
If your iPhone 11 Pro is still covered by the warranty and the Lightning cable starts malfunctioning out of nowhere, Apple will replace it for free. Reach out to Apple online, or in person at an Apple Store, if you think you're eligible for a replacement.
Would you rather try a new Lightning cable manufacturer? There are plenty of third-party manufacturers out there. Check out our list of Amazon favorites, if you want to see who we think makes the best cables.
Try A Different iPhone Charger
On a similar note, if your Lightning cable isn't the culprit, it could also be your charger itself that's causing the issues.
Sometimes, if an iPhone senses that connecting to a specific charger is harmful, it will reject the charger. To be sure this isn't happening, try using a few different types of chargers.
If you normally charge your iPhone directly from your computer, try plugging it into a wall. Or, if you have a car charger, try plugging that in as well. If your phone starts charging when plugged into a new port, your usual charger is causing the error.
Clean Out Your Charging Port
When materials like dirt or lint get into an iPhone's charging port, they can prevent a Lightning cable from making a successful connection. Cleaning out your phone's Lightning port might get your device charging again.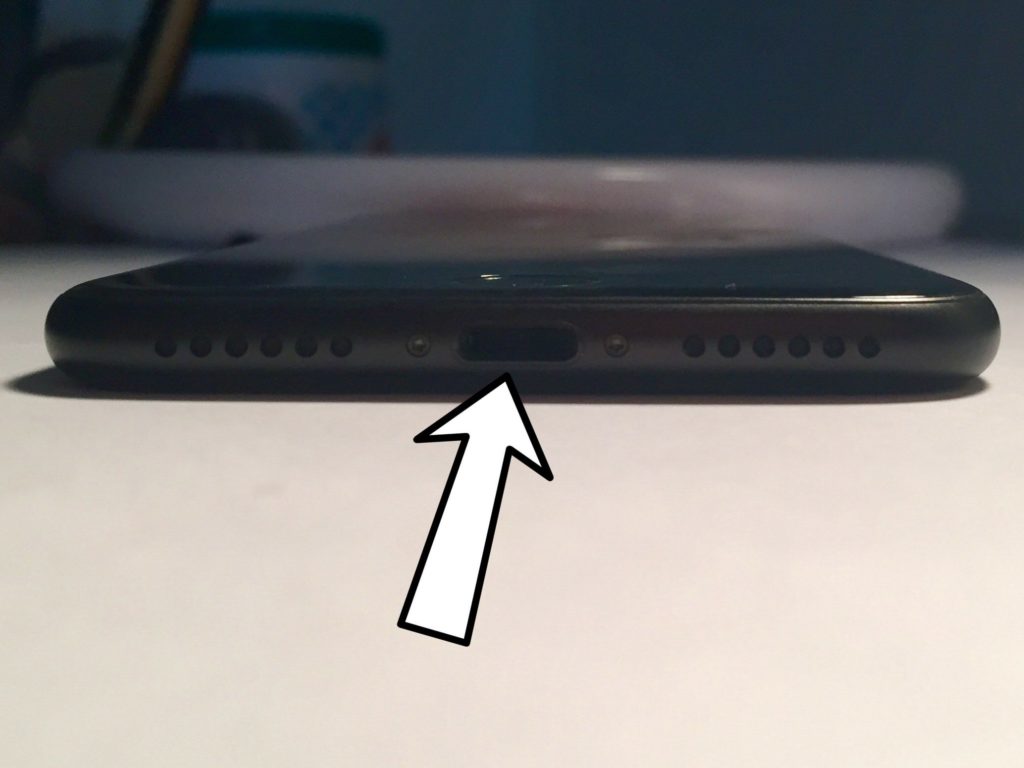 To check if there is anything in your charging port, shine a flashlight in the area to see what you can find. If you notice any obstructive material, grab a small brush that won't conduct electricity, such as a clean toothbrush, and lightly brush out the gunk. Then, try reconnecting your iPhone to the charging cable.
If this doesn't work, it's still possible that the charging port has been harmed by something you can't see. For example, water damage causes serious defects to an iPhone, even if the harm isn't visible from the outside. If you try the following steps and your iPhone still won't charge, it's possible that water or another harmful substance might be interfering.
DFU Restore Your iPhone 11 Pro
We consider this step to be a last ditch repair effort, if none of our previous tips have helped. Putting your iPhone in DFU mode will delete all of your data and revert your phone back to its factory settings. Technicians frequently put iPhones in DFU mode before performing any other repair services, as it can erase software glitches.
We emphasize the importance of performing a full backup of your iPhone before embarking on these troubleshooting steps. Once a DFU restore erases something, the only way you'll be able to access it again is if it's backed up externally, either on a computer or iCloud.
We currently have a tutorial published with more details about what a DFU restore does and how you can safely perform one. While this might initially sound scary, putting your phone in DFU mode and restoring it is a pretty simple process, with the right guidance.
iPhone 11 Pro Repair Options
If you've completed a DFU restore and your iPhone still won't charge, it's probably time to have it repaired by a technician. Is your iPhone covered by AppleCare+? If so, Apple should perform the necessary repairs for free. If your phone isn't ensured by this program, the work could be pricey. That being said, you can be absolutely sure of the technician's competence, as opposed to a third-party repair service.
To set up a repair with Apple, you have two options: visit your local Apple Store's Genius Bar or mail your iPhone to them directly. You can have the repair done in-person at an Apple Store, although we recommend setting up an appointment in advance to avoid long lines. If you'd rather have the repair performed through the mail, you can arrange it on Apple's support page or by calling 1-800-MY-APPLE (1-800-692-7753).
If you're worried that Apple's repair fees might be more than your budget, there are other third party repair companies that we recommend. Puls is a fast and affordable Apple product repair company that will come to you. A major benefit of having them fix your equipment is that all of their services and parts are backed by a lifetime warranty.
An affordable alternative to Apple's mail-in service is iResQ. Still cheaper than Apple's repair services, iResQ performs quality repairs to Apple products, including a few Apple won't do.
Charge On
Each of these steps will bring you closer to figuring out why your iPhone 11 Pro won't charge. Remember to always backup your device before attempting a restore, and you can always turn to a technician, if you're worried that some of these instructions might be too complex. In the meantime, turn your screen's brightness down to conserve battery and be careful when performing these fixes. Thanks for reading! If you have questions or suggestions, let us know in the comments below.