Being unable to connect to a cellular network is one of the most common problems that can occur on an iPhone. If you've been trying and failing to access your cellular data, any number of issues could be the problem. In this article, I'll explain how to fix the problem when your iPhone 11 Pro says No Service.
What's Causing The No Service Error?
You might be getting no service on your iPhone 11 Pro for a few reasons. It might be a problem with your device's software, hardware, or even your iPhone's connection to your carrier's cellular network. The steps below will help you diagnose and fix the real reason why your iPhone 11 Pro says No Service.
Check With Your Cellular Carrier
One common reason you have no service on your iPhone 11 Pro is that you've lost access to your carrier's network. Cellular carriers shut off service to phones for a lot of reasons. Accounts can be shut down because of privacy issues, late payments, and more.
Do a Google search for your carrier's customer support phone number. I've personally had a lot of success sending direct messages to wireless carrier's on Twitter, as customer support representatives are very active on the platform.
Update Carrier Settings
Carriers release carrier settings updates to improve your cell phone's connection to their network. We recommend updating carrier settings as soon as these updates are available. You can check for a carrier settings update by opening Settings and tapping General -> About. Wait about ten seconds to see if a carrier settings update pop-up appears on the screen.
If a pop-up doesn't appear, an update probably isn't available and you can move onto the next step.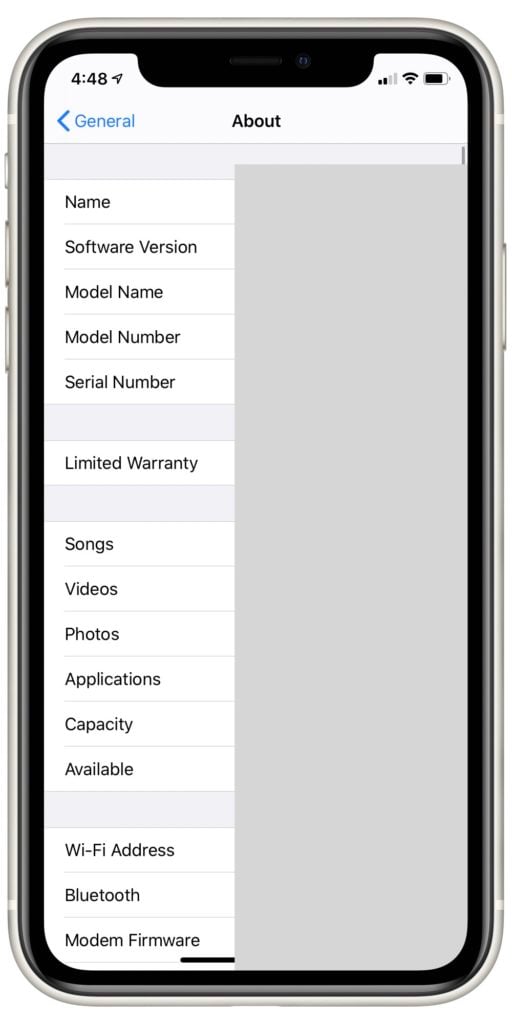 Check Cellular Settings On Your iPhone
There are lots of different cellular settings that users can adjust on their iPhones. If any are set up incorrectly, the No Service message might appear as a result. Turning these settings off and back on might be the adjustment you need to fix your iPhone.
It's important to note that these cellular settings change depending on your cellular provider. If any of the steps we suggest in this section don't seem possible on your iPhone, don't worry! Just keep scrolling and see if any of the others work.
First, open your Settings and tap Cellular Data. If the switch beside your cellular data label is flipped off, tap it to switch it back on. If it's already on, try toggling it off then back on again. Keep an eye on the No Service message when you make this adjustment to see if it solves your problem.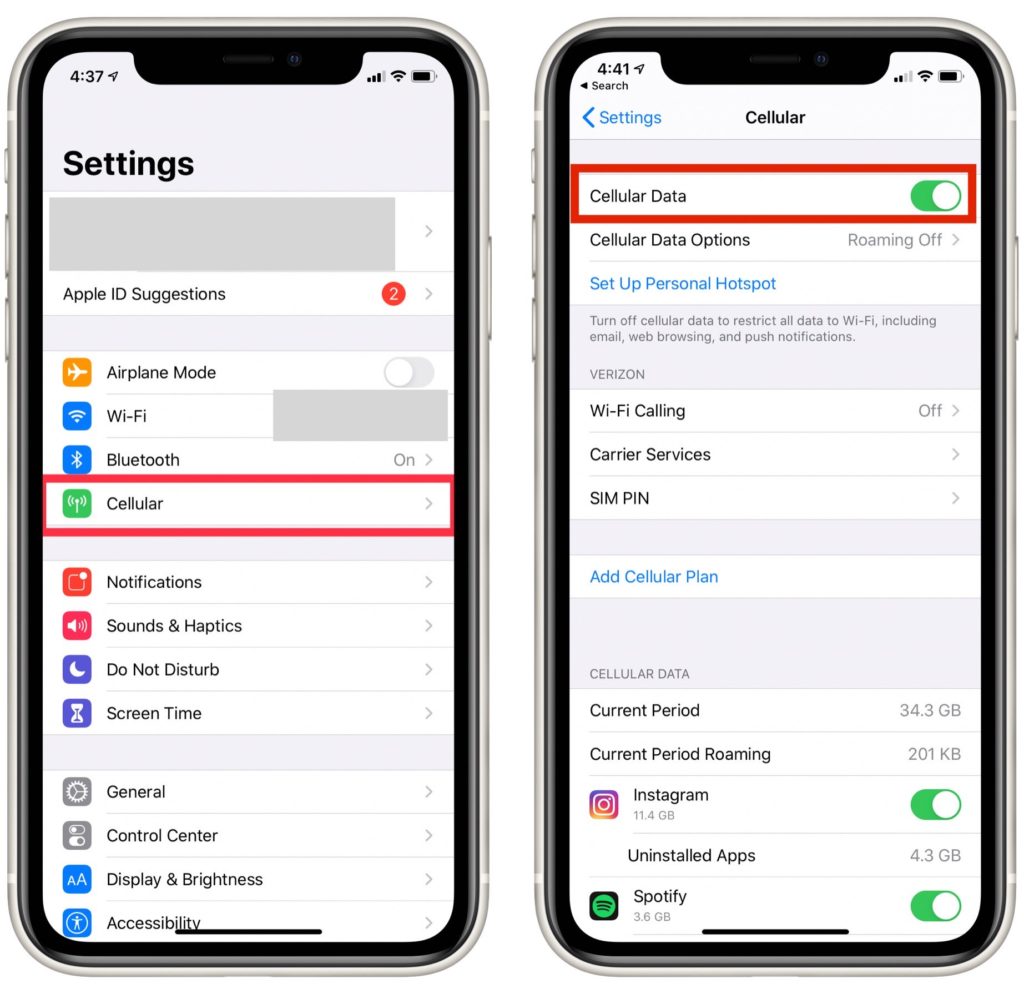 If that didn't work, tap Cellular Data Options, then tap Roaming. Is the switch labelled Voice Roaming toggled on?
If it's not, try turning it on. Voice Roaming should be turned on when in the US, as carriers no longer charge extra for it. If you're wondering what cellular roaming is, check out our article on voice and data roaming for more details.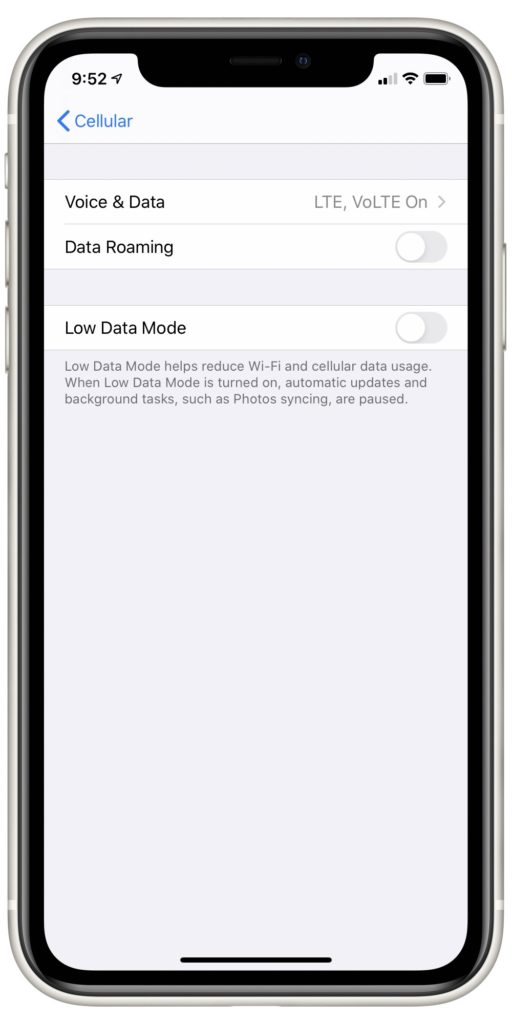 Update iOS
Sometimes, a bug will occur in an iOS software update that interferes with an iPhone's ability to connect to cellular networks. If this happens, the following update will usually be tailored to resolve these bugs. While the probability that this is the case isn't high, checking for updates might fix the problem when your iPhone 11 Pro says No Service.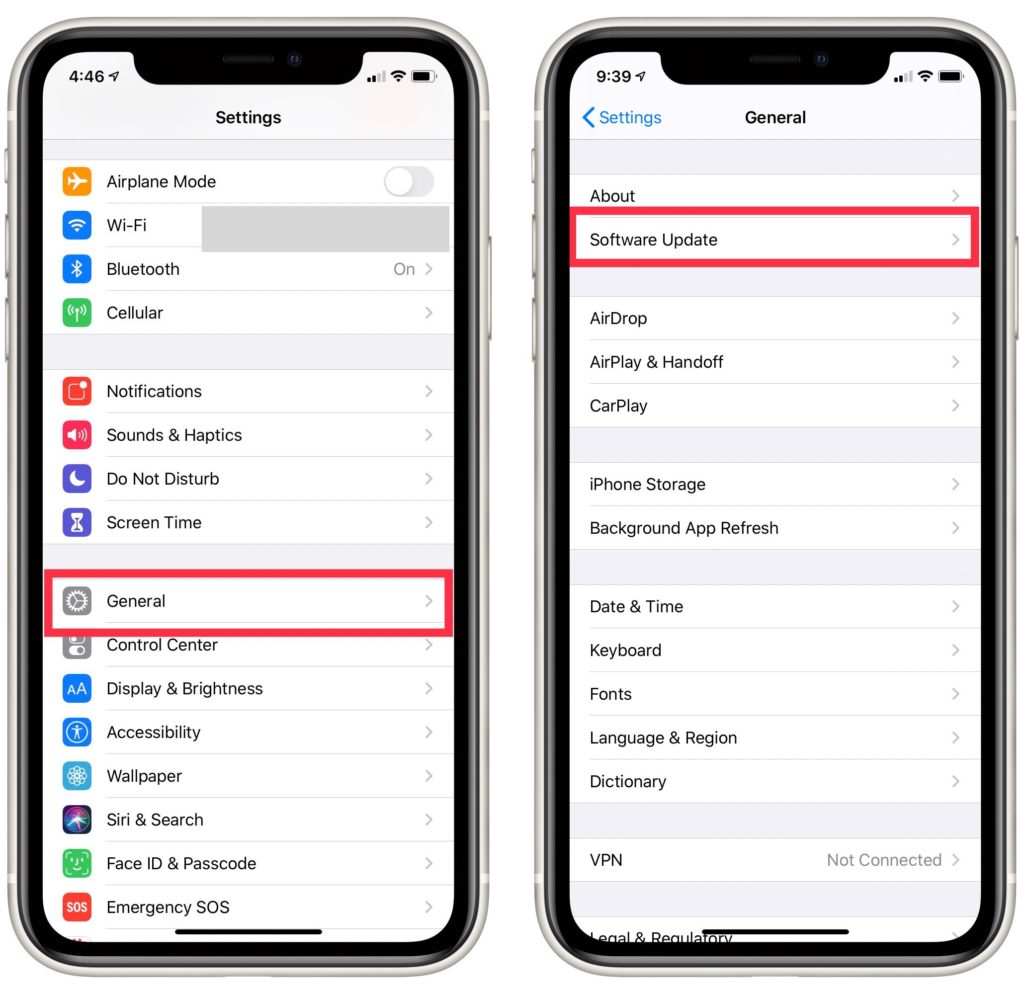 If your iPhone can still connect to Wi-Fi, open up the Settings app to begin the process. Once it's open, tap General -> Software Update. Do you see an available iOS update? Tap it to start the download.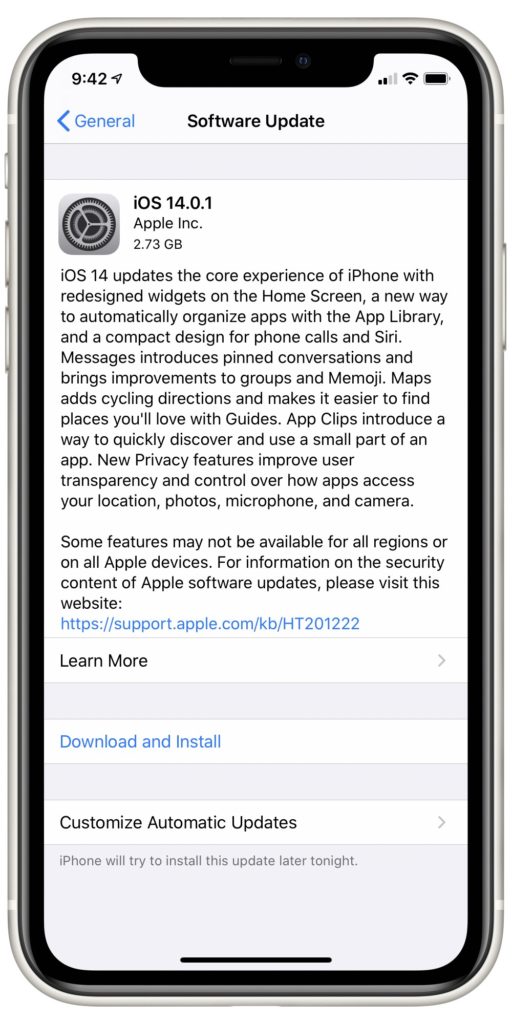 Can't connect to Wi-Fi? Try plugging your iPhone directly into your computer and open iTunes or Finder. These apps will automatically inform you if there are any updates available for your iPhone's iOS or carrier settings. If something comes up, follow the prompts on your computer to initiate the update.
Reset Network Settings
Network settings includes every Cellular, Wi-Fi, Bluetooth, and VPN setting on your iPhone. It's possible there's an issue with the Cellular settings on your iPhone 11 Pro if it says No Service.
Before doing this, make sure to write down your Wi-Fi passwords. You'll have to reenter them after the reset is finished!
Open Settings and tap General -> Reset.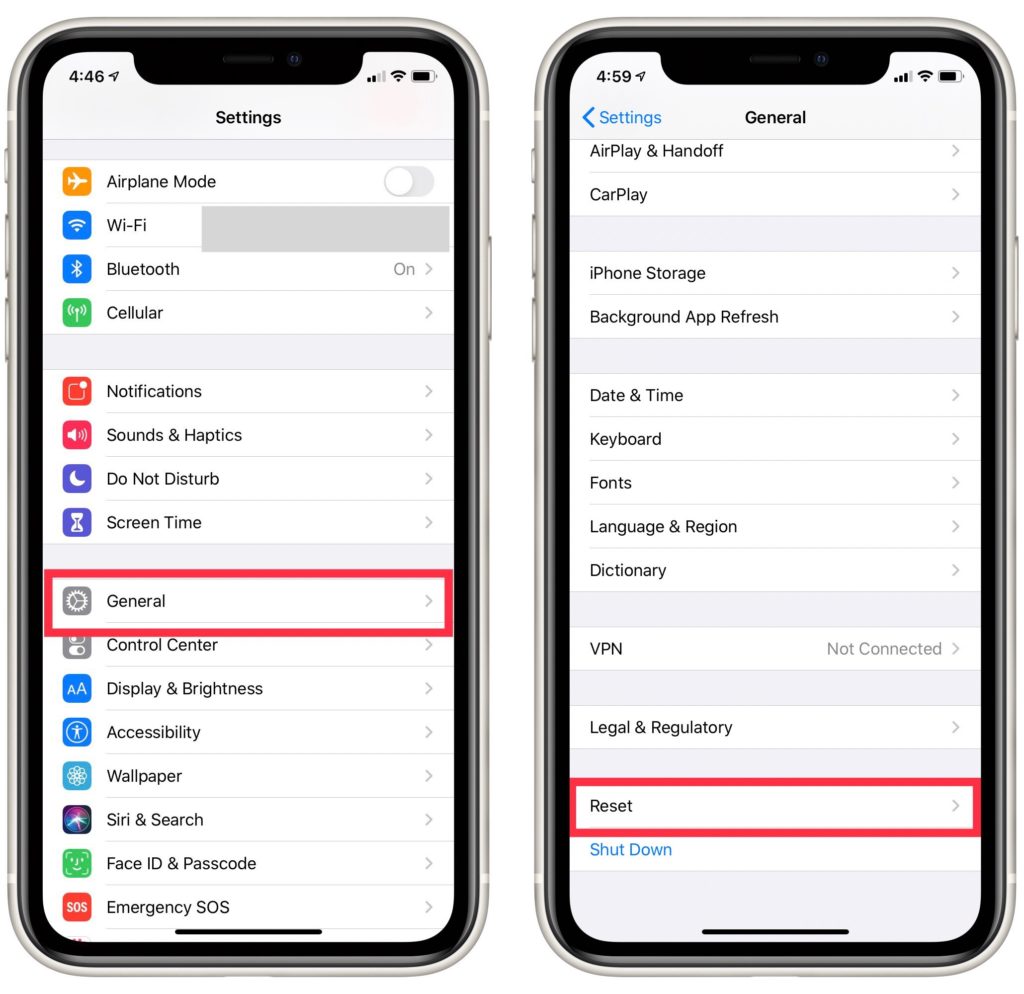 Tap Reset Network Settings. You'll be prompted to type in your iPhone passcode. Once you do this, you'll receive a second prompt asking you to confirm the reset. Your iPhone turn off, reset, then turn on again.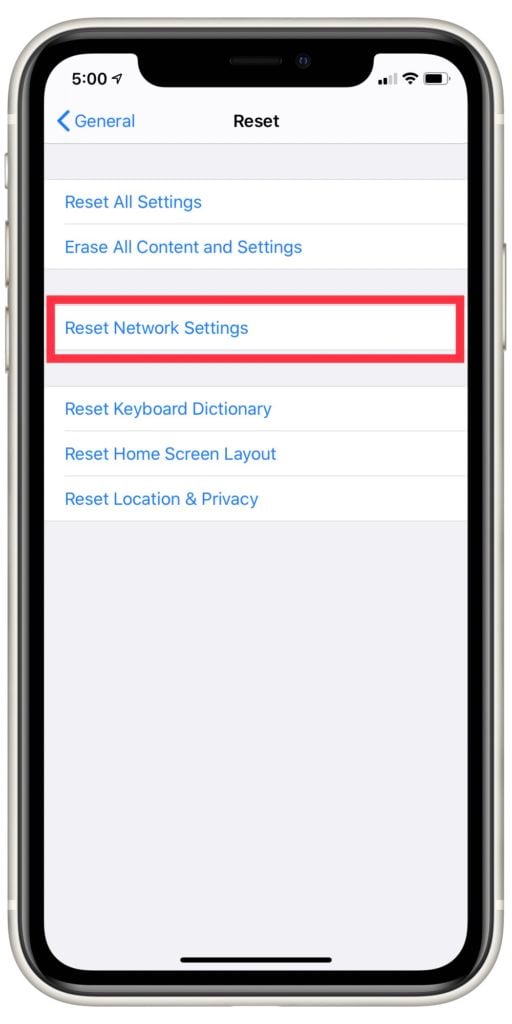 Take Your SIM Card Out
SIM cards act as an individual smartphone's connection to a carrier's network. Occasionally, you can fix the No Service error by briefly removing your SIM card and sliding it back into your iPhone.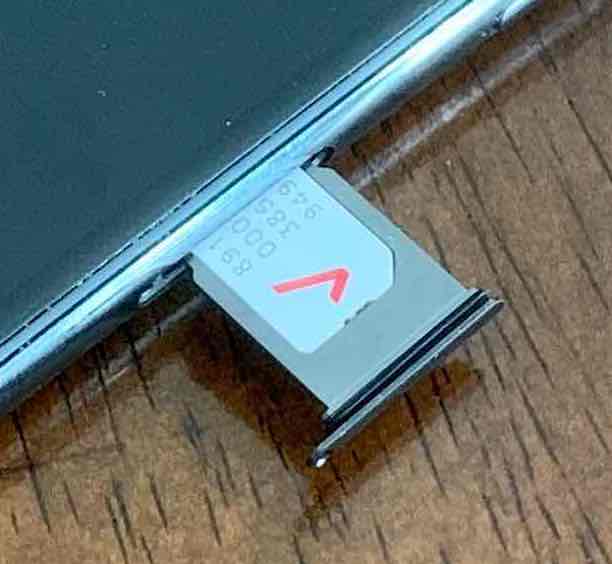 On the iPhone 11 Pro, you'll find the SIM card on the right side of your phone, below the side button. To remove it, you can use a paperclip or SIM card ejector tool.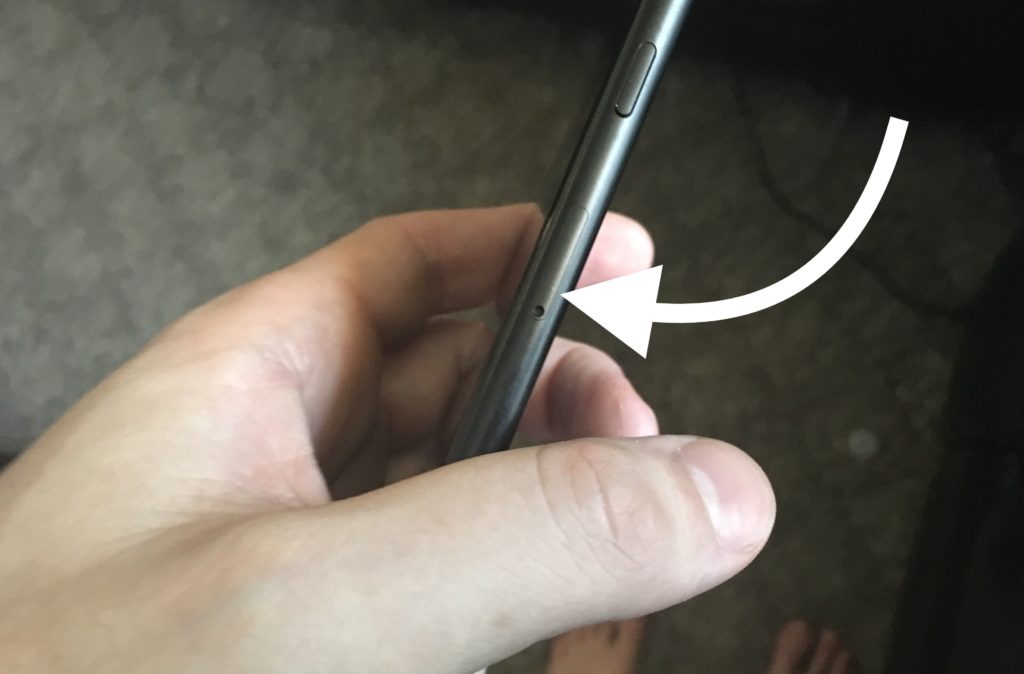 Check out our other article to learn how to safely eject the SIM card from your iPhone.
Check For Water Damage
When exposed to water, an iPhone can experience some serious damage that repair services won't be able to undo. Has your iPhone been exposed to liquid recently? This could very well be the cause of your service interference.
If your iPhone has retained water damage, Apple will only be able to replace it. If your phone is covered by AppleCare+, the cost of replacement is usually pretty cheap. However, if it's uninsured, this could incur a pretty serious fee.
Back Up And Restore Your iPhone
If none of the previous tips have resolved your No Service error, it's possible your iPhone is experiencing a pretty serious software issue. Restoring your iPhone to its factory settings can sometimes fix the problem, but it will delete all information you've stored on it as well. Make sure you have a full backup of your iPhone before opting to perform a restore.
Warning, Please Read Before Continuing!
If an iPhone can't connect to cellular service, you run a serious risk by performing a restore. After being restored, an iPhone needs cellular access to complete the necessary activation functions. If your iPhone still says No Service after a restore, it will be completely unusable.
While it's possible that taking this risk will actually resolve your issue, if you don't have an Apple technician nearby, we recommend holding off on this step and going straight to Apple for a repair.
Check out our other to learn how to back up your iPhone 11 Pro. Once your iPhone is backed up, watch our video to learn how to put your iPhone 11 Pro into DFU mode so you can restore it.
Contact Your Carrier Or Bring Your iPhone In For Repair
Depending on which carrier you have, they might be able to provide you with a special activation code that will restore your iPhone's ability to connect to cellular networks. While this is by no means a guaranteed solution, it's worth a shot to reach out to your cellular provider and see what they can do. If this doesn't work, it's probably time to have your iPhone repaired.
A repair from Apple can be pricey, but if you're willing to shell out the cash, you won't find a better resource. If you opt for Apple's repair service, we suggest making an appointment with the genius bar in advance, otherwise you might have to wait a long time, if you're seen at all.
Final Tips
Sometimes, a No Service error can be accompanied by other malfunctions. Another very common sign that something's wrong with your iPhone is if it suddenly loses a significant amount of battery life. If this happens to you, consult our article on saving battery life for some tips about how to preserve your iPhone until you can get it repaired.
Has this No Service error occurred before? It's possible that your carrier might have bad service in your area. Check out our coverage map and plan comparison tool to compare your current cellular provider to the other options available!
No Service? No Problem!
An iPhone that won't connect to cellular networks is about as useful as a TV without a screen. Before you get too frustrated, remember that there are plenty of avenues you can pursue to fix this problem, many of which you can explore from your home. This has been every potential fix for when an iPhone 11 Pro says No Service. Good luck! Thanks for reading. Any questions? Let us know in the comments below!