It's time to sign up for a new phone plan, but you're not sure which provider's the best option for you. Whether you're setting up a single line for yourself, or multiple lines for your family, the overwhelming number of coverage options can be difficult to decipher. In this article we're going to show you all of the best cell phone carriers available today!
What Makes A Good Cell Phone Carrier?
There are a lot of different factors that go into choosing the best cell phone carriers. Putting this article together, we considered price, coverage, customer service, and customer rewards as essential features for good cellular coverage!
Pricing
When selecting a cellular provider, cost is a very important factor to consider. Lots of carriers offer similar amounts of data and coverage, but the pricing can vary by carrier, by deal and by season.
If you're on a tight budget, it might be more affordable to consider subscribing to an MVNO. MVNO stands for mobile network virtual operator. These are companies that utilize other cellular providers' equipment to lease out access to the cellular towers owned by major mobile carriers.
Another great way to save on wireless coverage is to opt for prepaid plans. Often, you can find discounts for extra lines or specific amounts of time if you prepay for their service.
Coverage
We also prioritized how widespread and reliable each carriers' coverage is. Most major carriers have much better coverage in some areas than others. If you want to double check who offers the best service near you, take a look at our coverage map!
Customer Service
Quality customer service is another essential feature to look for in a carrier. Without friendly and responsive customer service lines, it's difficult to feel like a provider actually cares about you beyond the fee you pay for service.
While general customer satisfaction across cellular carriers is still improving year-to-year, the coverage consumers need is also constantly evolving. As a result, we used customer service as a major factor in coming up with each ranking.
Customer Rewards
You might be surprised how significantly different carriers' rewards programs can benefit customers. Including the weekly coupons for major brands and services from T-Mobile Tuesdays, the discounted services and event tickets offered by VerizonUp, and the chances to win gift cards and promotions with AT&T Thanks, make sure to look into the rewards programs for any carriers that interest you!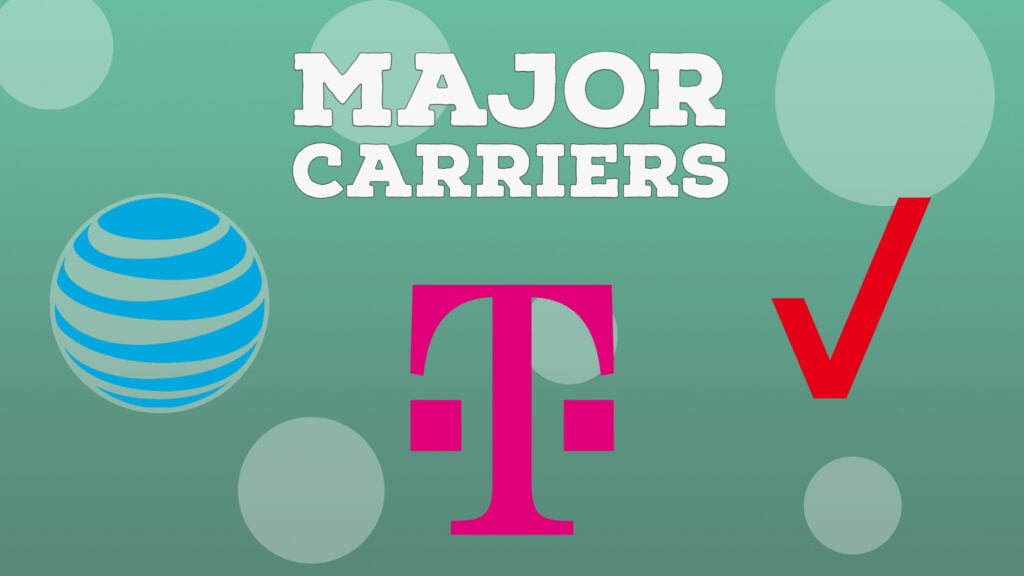 Verizon
One aspect of Verizon's wireless coverage that we like is how versatile their unlimited data plans are. Between the four options for Unlimited coverage Verizon offers, you can mix and match plans based on the individuals needs of everyone on your account. If you don't need unlimited data, Verizon also offers numerous prepaid plans with varying amounts of cellular data!
Verizon also has plans for people who don't like relying on a smartphone. If you prefer a flip phone — or have a tablet or smartwatch that you would like service for as well — Verizon offers several great plans for connected devices! Another huge perk to Verizon's coverage is that they have the widest reaching cellular network in the United States.
One drawback to coverage from Verizon is that most of their plans that don't feature unlimited data really aren't that exceptional of a deal. For example, there's only a $10 difference between a 5 GB prepaid plan and a 15 GB prepaid plan, and even their Prepaid Unlimited plan costs as much as some of their standard unlimited plans!
T-Mobile
In recent years, T-Mobile has become a force to be reckoned with on the cellular data market. As of 2018, T-Mobile's 4G download time was faster than any other provider's. T-Mobile plans are contract free, so you never need to worry about annual commitments.
If you purchase a new phone from T-Mobile you have the option to pay for it in affordable chunks over 24 months, or all at once. If you'd prefer to bring your own phone, you should have no trouble getting it set up with T-Mobile's service, provided it's carrier unlocked.
One T-Mobile feature that sets it apart from many of its competitors is their customer service. Over the past decade T-Mobile has won many awards for how they treat their customers. Just one way they show their customer appreciation is with T-Mobile Tuesdays, a rewards program that provides weekly discounts and rewards towards many popular brands and restaurants.
T-Mobile is also leading the way with 5G coverage right now. They currently offer 5G data in more locations than Verizon and AT&T combined, and their network is only continuing to grow! In fact, T-Mobile claims that they'll bring 5G coverage to 90% of the United States by 2023.
AT&T
AT&T has had good standing among cellular providers in the United States for a long time. One of their claims to fame is their shared data program, which allow families with multi-line plans to use the same pool of cellular data. This saves customers a lot on unnecessary fees, especially if they don't need a lot of cellular data month-to-month.
AT&T also offers a variety of payment options. For example, customers can choose between paying a few cents per minute for calling, prepaying for a few months or years' worth of data upfront, or more traditional contract plans if that's what you prefer. They also have a wide range of unlimited data plans, starting at a relatively low price point. Many of these plans include perks like the HD video preserving Stream Saver and a free HBO subscription.
Much of AT&T's advertising is somewhat misleading. For example, their basic unlimited data plan, Unlimited Starter, is much closer to something like an 8 GB plan as its data speeds are subject to slowing with network congestion. Also, when you set up a new plan with AT&T, it's likely you'll have to pay for access charges. This is an activation fee which adds an additional $20 to your initial plan payment.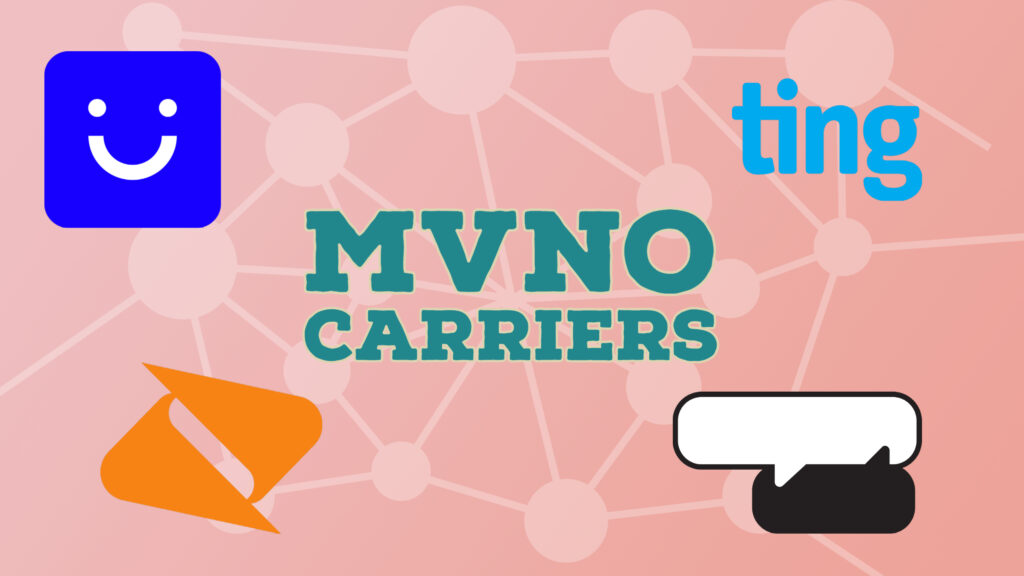 Visible
If you want reliable coverage at a reasonable price, Visible is another great option! Visible is a smaller carrier, fully owned and operated by Verizon. All Visible customers receive access to Verizon's nationwide 4G LTE and 5G data networks.
Visible's plan structure is completely unique. For one thing, they only offer one plan! Every Visible customer gets unlimited calling, texting, high speed data, and mobile hotspot! While Visible's coverage starts at $40 / month, there's plenty of room to save a ton every month.
One of the highlights of Visible's service is Party Pay. With Party Pay, Visible customers can register up to 4 lines on a single plan. For every line you add to your Visible plan, the monthly fee goes down an additional $5 / line. That means that you and three other people could be paying $25 for an unlimited data plan with 5G!
What's more, Party Pay allows each party member to register their own account and pay their own bill. Party Pay is a great deal for friends, family, or roommates who want a convenient way to save on their cellular coverage!
Mint Mobile
The first MVNO we'd like to highlight is Mint Mobile. Leasing 4G LTE and 5G service from T-Mobile's network, Mint Mobile offers plans in 3, 6, or 12 month increments. When you sign up for a Mint Mobile plan, you can get significant discounts if you commit to a longer period of coverage, or if you opt for a larger monthly data allotment.
One thing that establishes Mint Mobile apart from some of its MVNO competitors — aside from the fact that Ryan Reynolds is a partial owner — is their store's excellent selection of cell phones! However, if you prefer to bring your own phone into your new plan, Mint Mobile welcomes new customers to do that as well!
Another huge perk to signing up for a Mint Mobile plan is their trial period! New customers can sign up for three months of any Mint Mobile plan at a discounted rate. If you like their service, you can sign up for another year of coverage with the same discount!
Consumer Cellular
Tapping into both T-Mobile and AT&T's cellular networks, Consumer Cellular provides budget cellular coverage to virtually every corner of the US. A claim to fame of Consumer Cellular's is that their US-based customer service has won many awards honoring their customer help lines. With rewards for AARP members and customers who refer others to their coverage, Consumer Cellular is another great MVNO provider!
Like Mint Mobile, Consumer Cellular offers a great selection of the latest iPhone and Android phones! Every consumer cellular plan allows for data sharing and 5G. Whether you're looking for the smallest data allotment possible, or an unlimited data plan, Consumer Cellular has you covered. What's more, you'll never pay more than $40 / line!
Frankly, I don't think anyone could blame a potential customer for being put off by the appearance of Consumer Cellular's website. As far as modern cellular providers go, their display feels obsolete and difficult to navigate. If that doesn't bother you, then Consumer Cellular might be the right provider for you!
Google Fi
Owned by Google, Google Fi is an MVNO to Sprint, T-Mobile, and US Cellular. Google Fi supports both GSM and CDMA cellular networks, which makes it easy to bring your own phone when you switch.
Google Fi is unique among wireless providers because their cellular data, calling and messaging are all powered by Wi-Fi. This could be especially helpful in areas without great cellular coverage. However, if you're in a rural area — or somewhere where Wi-Fi hotspots are sparse — this system could quickly become a nuisance as well.
One benefit to signing up with Google Fi is their Bill Protection feature, which keeps your account from being overcharged once you reach a certain data threshold. Going over your monthly data allotment is made even harder by the special VPN that automatically connects you to nearby Wi-Fi hotspots when they're available.
If you're a big iPhone fan, Google Fi might not be the provider for you. Currently, Google Fi for iPhones is in beta and requires customers to go through an extra setup process. What's more, Google Fi's 5G network is not yet compatible with any 5G iPhone model.
Tello Mobile
The name of the game for Tello Mobile is variety. They offer an enormous array of plans ranging from a minuscule amount of data, talking and texting to fully unlimited plans. If you have a specific vision for the perfect wireless phone plan for you, you can probably create it with Tello Mobile's Build Your Own Plan program.
Tello Mobile is an MVNO leasing coverage from T-Mobile's nationwide network. If you'd like to bring your own phone when you switch, Tello Mobile invites their customers to do so as long as their device is compatible. If you're concerned about international features, calls to Mexico, Canada, Romania and China are all included with every Tello plan.
One drawback to Tello Mobile is that store's phone selection isn't optimal. It's mostly comprised of refurbished, older generation iPhones and a few cheaper Androids. While most of their products  are pretty affordable, you'll need to purchase your phone from somewhere else if you want a really powerful phone on Tello's network.
Republic Wireless
Republic Wireless gives their customers complete control over their monthly data use. They only offer a single plan, called My Choice, with a baseline of unlimited talk and text and an optional amount of monthly data. All coverage from Republic Wireless is prepaid, and provides customers access to T-Mobile and Sprint's cellular networks. If you prepay for the My Choice Yearly plan, rather than the My Choice Monthly option, you can also save significant amounts of data every month.
For Android fans, Republic Wireless sells many of the newest Android cell phones directly from their website. If you prefer to keep your old phone, you can check your compatibility on their website's Bring Your Own Phone page.
A serious issue potential customers might encounter with Republic Wireless is that they are not compatible with any iPhone. For a large number of customers, this could be a deal breaker.
Cricket Wireless
The final carrier we'd like to include on this list is Cricket Wireless. Cricket Wireless is an MVNO with access to AT&T's 4G LTE cellular network. They have several different plans available, all of which include unlimited talking and texting with options for 2 GB, 5 GB or unlimited cellular data.
If you sign up for AutoPay with Cricket Wireless, you'll be eligible for discounts on all of their available plans. Most of the plans they currently offer are at a relatively average price point. While they don't have the most modern selection of cell phones on the market today, they offer affordable payment options for a number of iPhone and Android devices if you're looking for a decent smartphone on a tight budget.
We've Got You Covered
That completes our list of the best cell phone carriers offering coverage right now. If you're interested in more details about how all of these carriers hold up side-by-side, take a look at our plan comparison tool. If none of these options sound up your alley, the market's constantly evolving and it probably won't be too long until your perfect plan is readily available.
Which Carrier Is The Best?
Now that you've heard our thoughts about which wireless carrier is the best, what are your thoughts? Let us know in the comments below. Thank you for reading, and please share this article with your friends who would like to learn more about wireless carriers.