An Apple Watch is a big investment that can be a great help day-to-day. However, finding the perfect cellular plan for it can be a challenge. In this article, I'll tell you about the best Apple Watch cellular plans!
What Do You Need?
There are two types of Apple Watches available: ones with GPS and ones with GPS and Cellular. You'll need a GPS + Cellular Apple Watch if you want to be able to use cellular data.
If you already know which carrier you prefer, you can purchase Apple Watches from Series 3, 4, 5, and 6 directly from most them. Most of the time, it's easiest to purchase the Apple Watch directly from the carrier you're subscribed to.
What Can You Do With An Apple Watch Data Plan?
Apple Watch data plans add gives you a lot of freedom. With the right plan, you no longer need to be anchored to your iPhone to stay connected to the internet.
Your day won't get derailed if you leave your iPhone at home. Cellular data allows your Apple Watch to make calls, send texts, stream music, and perform other wireless functions without relying on an iPhone's Wi-Fi or cellular connection.
If you find your iPhone to be a clunky hindrance when you're exercising, an Apple Watch with cellular data plan can keep you connected without interfering with your workout.
Verizon Apple Watch Plans
NumberShare
Do you need premium coverage from the widest reaching carrier in the US? Verizon's NumberShare plan provides unlimited 4G LTE data, calling, texting, and HD video streaming.
For an additional $10 every month and a $40 activation fee, NumberShare adds your Apple Watch to your iPhone's pre-existing plan. If you know that you'll be using your Apple Watch regularly, this initial investment could pay off with the convenience and accessibility NumberShare affords.
If this sounds like the plan for you, we recommend purchasing it online to reduce the activation fee to $20.
AT&T Apple Watch Plans
AT&T offers a variety of plans that are applicable to your Apple Watch. It only costs $10 / month to add your Apple Watch to your AT&T Unlimited Plan.
Unlimited Starter
Unlimited Starter is AT&T's most affordable unlimited data plan. It comes with unlimited calling, texting, and data, as well as free fraud and spam blocking. As the carrier's most basic unlimited plan, Unlimited Starter streams video at 480p and is subject to slower data speeds when their network's busy.
Unlimited Extra
For an increased monthly fee, Unlimited Extra provides much of what Unlimited Started leaves to be desired. With 50GB of monthly cellular data, Unlimited Extra provides a safety net against data speeds being throttled when AT&T's network is congested. This is also the most affordable plan with access to AT&T's 5G network.
A bonus to Unlimited Extra is that, if you opt for paperless billing and auto pay, you're eligible to accumulate monthly credits on your AT&T billing account.
Unlimited Elite
If you're looking to optimize video streaming, the Unlimited Elite plan is perfect. Including the exclusive Stream Saver for video quality preservation, 100GB of data monthly, and a free HBO subscription, Unlimited Elite is able to stream HD video at anytime from anywhere. Of course, this all comes in addition to unlimited calling, texting, data, and 30GB of mobile hotspot.
T-Mobile Apple Watch Plans
T-Mobile's Magenta plan includes the standard facets of unlimited plans including texting, calling, and data. The addition of Paired DIGITS, a program allowing multiple devices to function with the same phone number, will connect your Apple Watch for an additional $10 per month, plus a $20 instillation fee. Like their competitors, T-Mobile also offers rewards for digital payment.
Xfinity Mobile Apple Watch Plans
People already subscribed to Xfinity Internet should consider an Xfinity Mobile cell phone and Apple Watch plan. Xfinity Mobile offers a By The Gig Plan with 1, 3, or 10 GB of data for $15, $30, or $60 / month respectively. If you know you'll use a lot of data, you can get Xfinity Mobile's Unlimited Plan for just $45 / month.
It costs $10 / month to activate your Apple Watch on your existing Xfinity Mobile cell phone plan, but that fee is waived 90 days after activation. Additionally, you'll need an iPhone 6 or newer running the latest version of iOS. Check out Xfinity Mobile's website to learn more about activating an Apple Watch on your cell phone plan.
US Cellular Apple Watch Plans
US Cellular gives you two Apple Watch plans to choose from, both of which cost $10 / month per device. The first is Cellular Pairing, which allows you to make calls, send texts, and use cellular data when your iPhone is not nearby. The second is Family Setup, which includes all the same features and gives the Apple Watch a unique phone number.
You can purchase an Apple Watch with GPS and Cellular directly from US Cellular and activate it online.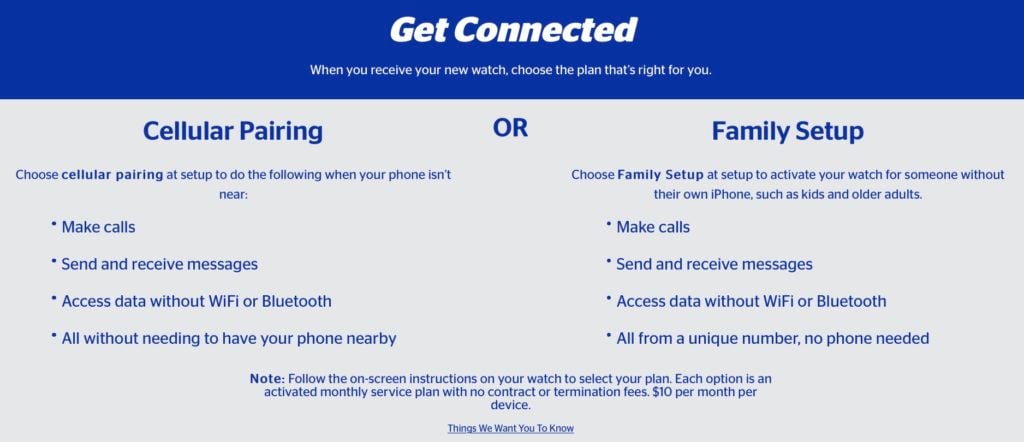 Visible's Apple Watch Plan
Recently, Visible rolled out an Apple Watch plan as well. Whether you're a new or existing Visible customer, you can add unlimited talk, text, and data for your Apple Watch for just $5.
Visible's coverage is compatible with the Apple Watch SE, as well as the Series 4, Series 5, and Series 6. Visible customers are welcome to bring their own Apple Watch, or purchase one directly from Visible's store. You can even register your Apple Watch in the middle of a billing cycle!
If you're looking for an affordable and convenient way to connect your Apple Watch to one of the largest cellular networks in the world, Visible might be the way to go!
How To Activate Your Plan On Your Apple Watch
Once you've selected your Apple Watch's cellular plan, it's time to activate it. Open your iPhone and select the Watch app. Go to the My Watch Tab, tap Cellular, and then Set Up Cellular. From this point, instructions may differ between carriers. If you're having trouble connecting your Apple Watch to your plan, contact your carrier for help.
How To Turn On Cellular Data On An Apple Watch
Swipe up from the very bottom of the Apple Watch face to open Control Center. Tap the Cellular icon to turn on cellular data. If the Cellular icon is green, it means your Apple Watch is connected to cellular data. If the icon is white, Cellular is active, but you're connected to your iPhone's Wi-Fi or Bluetooth. Tap the icon until it turns green to connect your Apple Watch to cellular data.
Watch Your Step
The key to a solid Apple Watch cellular plan is a reliable data connection. Keep an eye out for great deals and your mind open to different carriers. Make sure to share this article with friends and family who are looking an Apple Watch cellular plan! Leave a comment down below if you have any other questions.