You've been trying to catch up with someone on Zoom, but you're experiencing some audio problems. You're trying to use your AirPods to speak and listen, but for some reason they're not working. Whether audio's playing through your computer instead, or you just can't hear anything at all, here's everything you can try if your AirPods are not working on Zoom.
Unpair Your AirPods From Other Devices
AirPods can experience serious functional interference when they're connected to multiple devices at once. To minimize the potential for your AirPods to get confused, make sure you unpair them from any other devices they're connected to.
The quickest way to make sure your AirPods aren't connecting to other devices is to disable Bluetooth on everything that they've connected to except the one you're using for Zoom. For example, if you're having the call on your computer, turn Bluetooth off on your cell phone or tablet.
Make Sure Your AirPods Are Paired To Your Device
On a similar note, your AirPods won't work on Zoom if they're not connected to the device on which you're trying to call. To make your AirPods available for pairing, open their case and press the button on the back. When the light on the front of the case starts flashing white, your AirPods are ready to pair.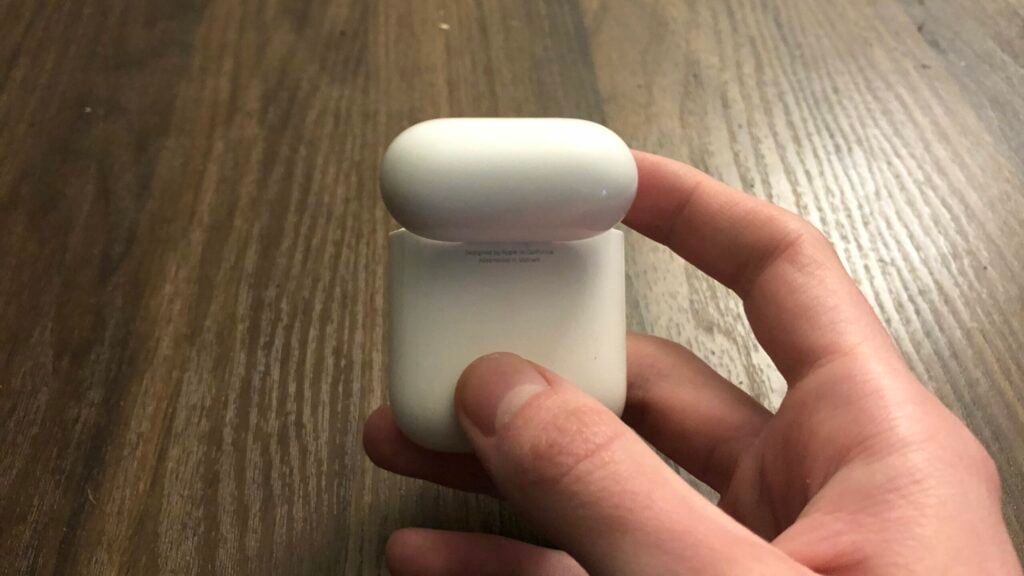 Next, you'll want to connect your AirPods to your device. Below, we have tips on how to access and pair your Bluetooth settings for each major operating system.
How To Pair AirPods To A Mac
Press the Apple logo in the top left corner of your screen. Click System Preferences, then Bluetooth.
Under the Devices heading, you should see your AirPods listed. If it says Connected beneath their label, they're already paired to your Mac. If they aren't connected, double-click on them to pair to your computer.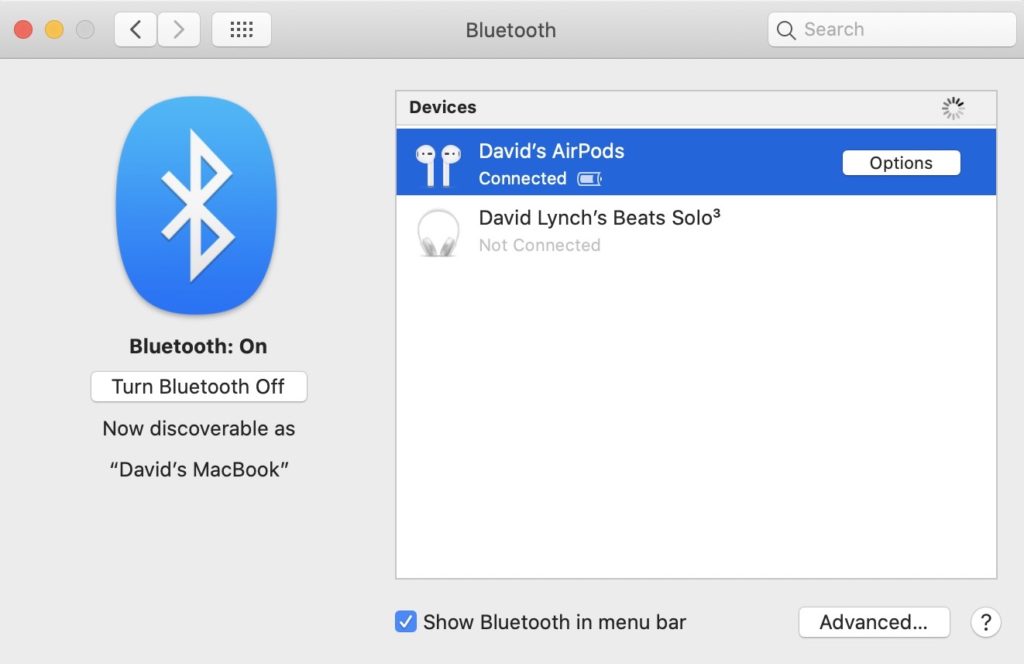 How To Pair AirPods To An iPhone
Open Settings and tap Bluetooth. Your AirPods will appear under My Devices if you've paired them with your iPhone before.
It'll say Connected next to your AirPods if they're already connected to your iPhone. Tap on your AirPods in the list under My Devices if it says Not Connected.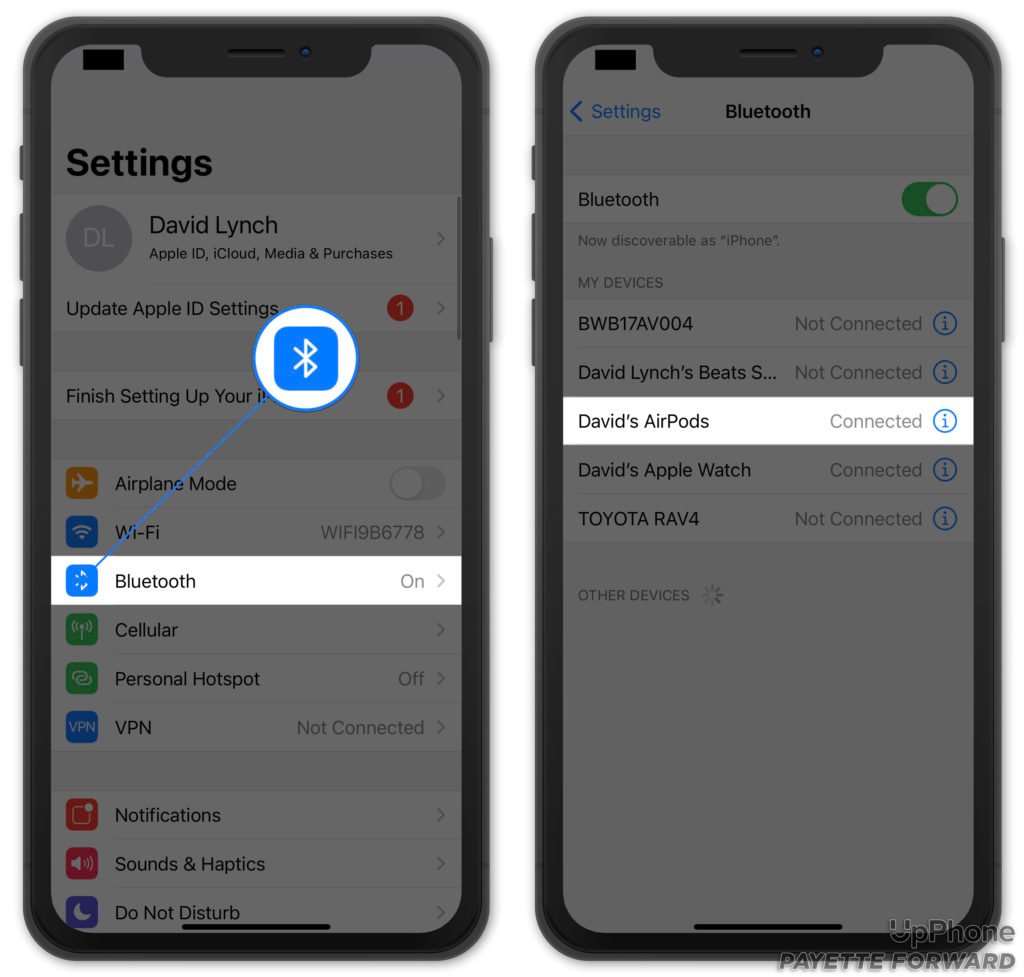 How To Pair AirPods To A Windows Computer
Click Start -> Settings -> Devices to access Bluetooth controls. You'll see your AirPods listed under Other Devices if you've paired them with your computer before. You'll know your AirPods are paired with your computer if it says Paired underneath the Audio heading.
How To Pair AirPods To An Android
Like a Windows computer, AirPods are compatible with any Android phone with Bluetooth. To pair your AirPods with your Android, open Settings and tap Bluetooth.
Your AirPods will be listed under Available Devices if they're ready to pair. Tap on them in the list to pair them to your Android.
What If My AirPods Won't Connect?
Sometimes, Bluetooth devices won't show up as ready to pair with other devices. Other times, they won't connect even if they say they're ready to pair. If either of these issues is the case for your AirPods, place them back in their case for 10 seconds and try again.
You can also try restarting Bluetooth on your device. This can quickly reset the connection and fix minor connectivity issues.
Check out our other articles if your AirPods won't connect to your iPhone, iPad, or Mac.
Select Your AirPods In Zoom
Even if your AirPods connect to your device, you may still need to manually select them as your audio devices on Zoom. The Microphone and Speaker are different settings on Zoom. Your microphone is the device that will transmit your voice to the other people on the call. Your speaker is the device that will play the call's audio back to you.
In the Zoom app, open Settings and click Preferences -> Audio. Check which device is listed beside the Microphone and Speaker headings.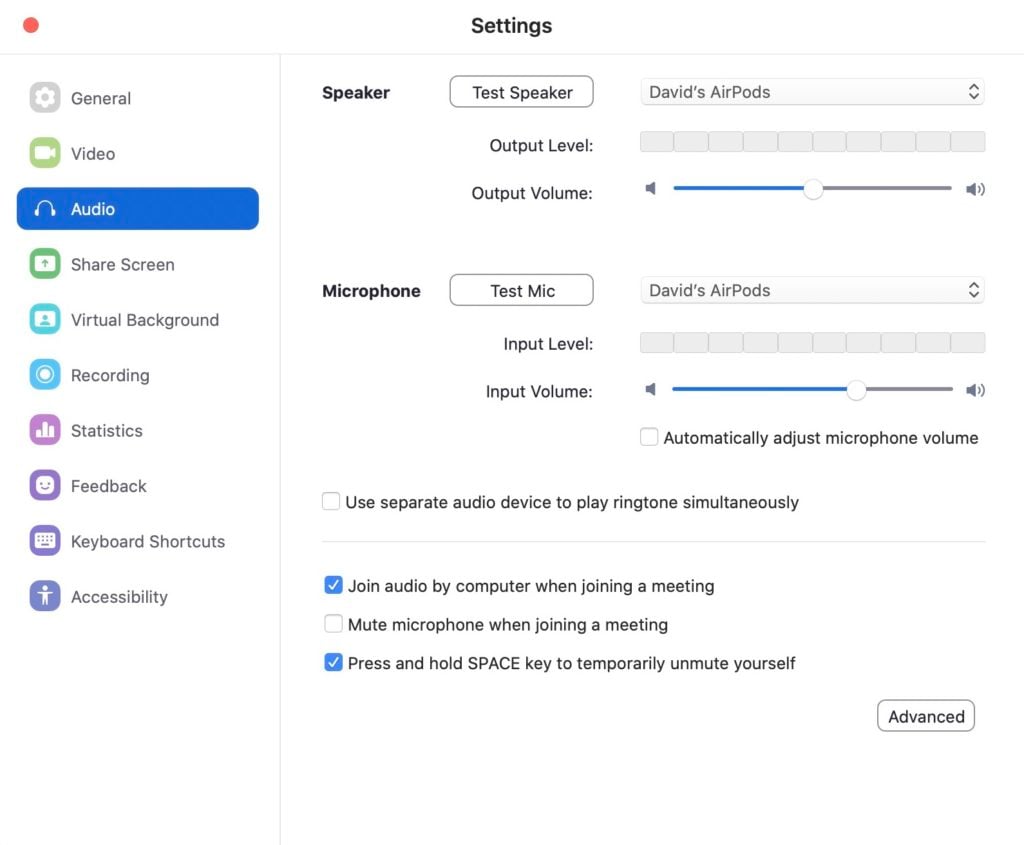 If your AirPods are listed beside both labels, all of your Zoom audio settings have been directed to them. Open the dropdown menu and select your AirPods if a different device is listed as the Microphone or Speaker.
How To Test Your AirPods Before A Zoom Call
To make sure that your audio devices are working how you'd like them, Zoom gives callers the option to test their audio before joining a call. When you click the link to a Zoom call, a pop-up should appear on your screen with a big green button labeled Join with Computer Audio. Click or tap Test speaker and microphone beneath to test your AirPods with Zoom.
Zoom will play a ringtone to test the speaker. You'll know your AirPods are working properly if you hear the ringtone. If you don't hear the tone, click No and Zoom will try a different device. Keep clicking No until you hear the tone through your AirPods. You might find it easier to open the dropdown menu and click on your AirPods if this takes too long.
After you've tested your speaker, Zoom will ask you to speak into your microphone, pause, then listen for a replay of what you just spoke. If you don't hear the replay, press No and continue following the instructions to speak, pause, and listen until you do.
Similarly to the speaker test, you can also open the dropdown menu, select your AirPods and test them without having to cycle through any other microphone devices.
Once you've confirmed your AirPods as both your speaker and microphone, select Join with Computer Audio to enter the call.
AirPods Problem: Fixed!
You've fixed the problem and your AirPods are working on Zoom! Video calls run a lot more smoothly when you can communicate with people on the call. Make sure to share this article on social media when your family and friends run into issues with AirPods on Zoom calls.